EVENTS

Click here for the current general calendar.
Select ALL INTEREST GROUPS on the top right drop-down menu.
Click here for this month's copy of the "Messenger"
*************************************************************************************
Dear Parishoners,
This Sunday we celebrate Pentecost! Please join us to hear the Gospel of our Lord read in numerous languages, remembering the experience of the Apostles on the first Pentecost. Please join us at any of our 4 services.
Planning for the 2013 English Summer Fair is underway and is scheduled for August 3rd from 10:30am to 2:30pm. We will be looking for volunteers to help in numerous capacities. If you have helped in the past or would like to become involved for the first time this year, please email Becky Goodwin at .

I would like to remind you about the appeal we are making for financial assistance from the congregation to help to put in a "hearing loop" system in the church to assist those with hearing difficulties.

Yours in Christ,
Adrian Robbins-Cole
Latest from "The Bishop's Column" by Bishop Rob Hirschfeld
From May/June issue of the New Hampshire Episcopal News:
As everyone knows, the Diocese of New Hampshire does not have a cathedral. When I shared this fact with a bishop of a large diocese with a prominent Gothic edifice, I was assured what I already know—how blessed we are here in the Granite State not to have such a big pile of stone.
A cathedral is simply the church where the bishop's chair, the cathedra, is located. There is a strange looking oak chair in the Chapel of the Holy Angels at 63 Green Street that is thought to be the bishop's. There are some other peculiar chairs in the various sanctuaries in the diocese. I sat in one of them and my feet couldn't reach the floor! There is also the seat in the car that I use to drive around to visit and attend meetings. Sometimes, thanks to the hands-free cell phone technology, our "Subaru Cathedral" is the site of my communication with lay leaders, priests, deacons, and others. That moving cathedra is also where I do a lot of my praying as I hold names of individuals and parishes in my heart and lift them up in intercession and thanksgiving.
The absence of a cathedral says something important about us as a church and about our discipleship in Christ. Being more mobile means less focused on a capitol or a throne from which decrees are pronounced. It means being less likely to point to a particular spot on the map, that when asked, "where is the diocese?" you can just as likely point to your own local setting, even to the place of your everyday life, work, service, and prayer, and say, the Diocese is here—wherever you are. We can be less rigid, set in stone, in our way of being church. The wider Episcopal Church is straining to become more "nimble." The Church is engaged in a long running debate about what to do with its real estate in Manhattan. Having one less colossal tower to maintain and venerate might mean that we here in New Hampshire can more easily become that nimble living body that moves, breathes, and grows as the Body of Christ.
Reflection on The Boston Bombing Tragedy from Bishop Rob Hirschfeld
"I need all lanes open here!"
This was the urgent plea of a Boston Police officer responding to his radio dispatcher moments after one of the bombs exploded today near Copley Square. He was pleading to make all paths clear on the roads in and out of the disaster area so the injured, maimed, and dying could be helped as soon as possible. He could also have been asking for the airwaves to be clear of any unnecessary chatter so that all lines of communication could be open. Both were needed. "I need all lanes open hee-ah!"
The officer gives us a prayer. It is a prayer we have heard before and know. It's the plea we usually hear in Advent from Isaiah 40:
A voice cries out: "In the wilderness prepare the way of the LORD, make straight in the desert a highway for our God."
Clear the way. We need all lanes open here!
We need all lanes open here! In the wilderness, the desert, the wasteland of our violence, confusion, anger, and grief, we need, again, to know of the Presence that is stronger than sin, hatred, death. In the emptiness of hearts that are tempted to become numb to such suffering, we need lanes of God's compassion to open up again.
Yet again, a child! O, God. So close to where that kind Officer in that classic children's book about Boston made the Way for those ducklings, touching the hearts of children all over through the years. O God, no! Make a new way for us, O Holy One! Come, Lord Jesus.
O God, help us clear all the lanes for your grace, your healing, your justice, your peace. Even in the hot panic on the streets, we behold your glory when people rushed to the aid of your hurting children, with acts of compassion, wisdom, skill. But we need even more wide pathways for your Arrival, your Advent, to show us the Way. We need all lanes open here. We need all lanes open here. We need all lanes open here. Help us open all lanes, so we know You are here. Show us your healing and health in Boston and in all the cities of this earth. Amen.
Prayer from
Presidng Bishop Katharine Jefferts Schori
Gracious God, you walk with us through the valley of the shadow of death. We pray that the suffering and terrorized be surrounded by the incarnate presence of the crucified and risen one. May every human being be reminded of the precious gift of life you entered to share with us. May our hearts be pierced with compassion for those who suffer, and for those who have inflicted this violence, for your love is the only healing balm we know. May the dead be received into your enfolding arms, and may your friends show the grieving they are not alone as they walk this vale of tears. All this we pray in the name of the one who walked the road to Calvary. Amen.
*************************************************************************************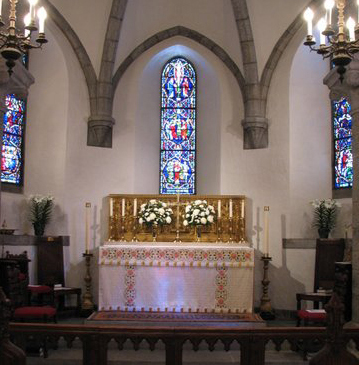 Many thanks to Sally Steere and Carol Walsh for their work on the Altar Guild.